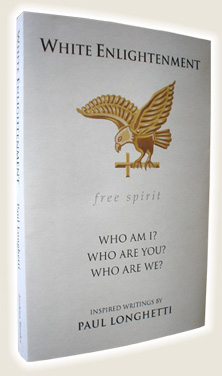 As you read Paul's own story of discovery it will be easy to relate and find parallels to your own journey.

We all seek more peace, joy and fulfilment in our daily lives. Paul Longhetti shows us the way to the Light and to the wisdom of higher Powers which are working each and every moment to show us the path to the Truth. Paul is honoured to have been chosen to help in this way as he relates a Divine message to the world.

We are all children of God. Because of the misdirected and tarnished energies in this earthly dimension, many have forgotten their true essence which is simply the Godliness within. This is our Soul. Through the Light comes all love, all hope and all healing. Often we become very aware of this Power and we hesitate to demonstrate our Light to others for fear of being ridiculed and rejected and thus feel pain through our emotions.

White Enlightenment brings to us inspiration from the Great Power and you will be blessed and guided as you read the words in this powerful book.